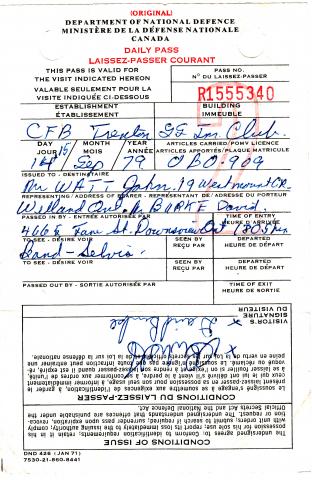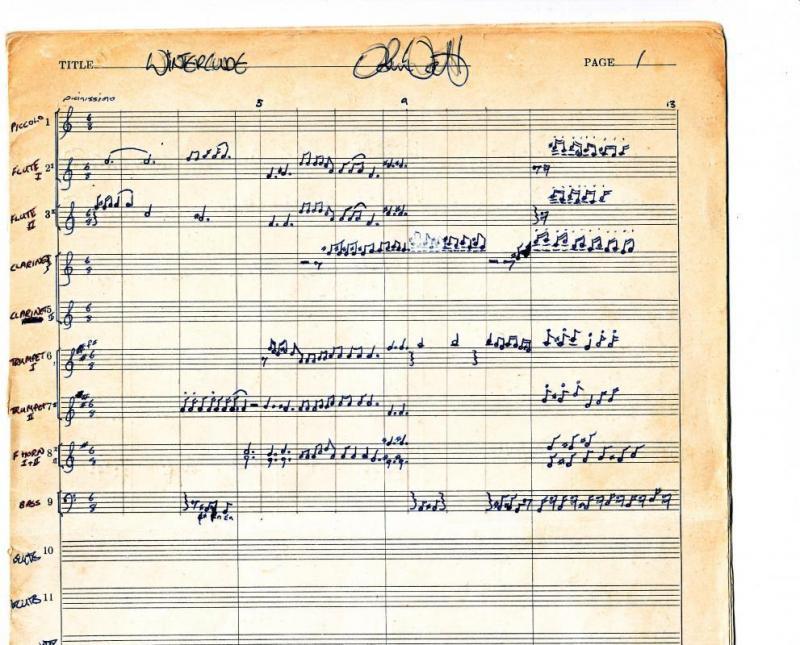 The title of this page, Watts' Welland World, could be seen as meaning that the life of John Watt
starts in Welland and then goes out into the world. As John Watt, I can say that world is Canada.
There is so much natural beauty that is unexplored territory for me, I can't see having to leave this country. Thinking that O.H.I.P. covers me wherever I go is a happy travel thought.
     Let's start with Ottawa, and another Welland mayoral campaign reference. Mayor Damian Goulborne was described in the Tribune as being a professor of tourism at Niagara College. He was said to have designed a successful tourist attraction in South America. Three months after the election, which he won, the Tribune said he wasn't a professor, but was just a teacher. Not one word was mentioned about this South American tourist attraction. Let's see what I've got.
     I was dating Esther Froese, a Mennonite woman in St. Catharines. She played bassoon in

The Ottawa Symphony and the Ottawa Symphony Orchestra. The conductor would ask her to be his escort for events, where she met two Prime Ministers. I used to say the conductor liked to conduct her around. When I was visiting her in Ottawa we went to a meeting of symphony players and local officials, and they wanted to plan a new winter festival for Ottawa. That's when the Rideau Canal, which divided the city, froze over, with horses and carriages and people skating and walking on the ice. I was just sitting back, watching and listening, and when everyone had agreed on the logistics and committee members, someone asked what name should they use.
I put up my hand for the first time and was allowed to speak. I said that when I was a student in high school I tried to write a symphony. I said I tried to arrange it the way Jimi Hendrix dubbed together his electronic masterpieces, and when the senior band tried to play it, it wasn't good.
I said I still liked the title, and it was about being peaceful and meditative outside in the snow,
calling it Winterlude. Everyone started looking around at each other, and they decided to use it.
     This is the top two-thirds of my composition, written at Centennial Secondary High School.
The first Winterlude was a success and continues on as an important Ottawa winter festival.
My reward was symphony members letting me sit in the middle of them onstage while they were having a rehearsal, hearing sympathetic notes that are artificially created with opposing sections of instruments playing harmonic notes, one of the best music lessons I ever... uh... experienced.

     When you're a lead guitarist-vocalist in a Toronto show-band, dancing and moving around onstage in suggestive ways, with a band that is trying to put your head through in every way we can, with clothes and props, trying to be as entertaining and inspiring as possible, it's too easy for most of the audience to buy into your act and think you've got more party happening than they do.

     When your audience is composed of military generals, lieutenants, sergeants and other officers, it's not as easy to get them going with the flash and bash and showy trash to get their cash.
     You have to admit, if the Department of National Defense of Canada can give me a daily pass to get into the base, with my keyboard playing friend from Nova Scotia, so we can climb into tanks, airplanes and other military vehicles, and talk it up with military personnel, they must have really liked us.

In fact, they liked us so much they arranged another two nights outside the base, at a local nightclub where non-officers could also attend.
     That was in Cornwall, and another story follows.
Life on the road isn't always good, as you will see.

When we moved to the nightclub for two more nights, called Miss Diana's, we all had separate tourist cabins, really nice. I was hoping to cross the very long bridge across the St. Lawrence River, but that didn't happen. During the late seventies and early eighties, what is for me the disco era, at least once a month a couple would ask me to sit with them at their table where they would show me a photo of them naked in a hot tub, and ask me if I wanted to come over and visit them after the band finished playing. They were always a married middle-aged couple. I always had some good reasons why I couldn't make it there.
     Here in Cornwall, this couple said something I had a hard time believing. They said they had a fifteen year old daughter, and I could borrow their car and take her somewhere and do anything I wanted with her.
I had to see this to believe it, and sure enough, sitting outside in a big luxury car was a very pretty young girl. She looked very white, tall and slender, not like her squat and darker skinned parents, so I was thinking she was adapted. I said this is very interesting and took the keys. I drove down the street, turned a corner and pulled over to talk with her. She said she did this for her parents and she would have sex with me.
     I drove back to my room and called the police, having a lengthy conversation. They asked me to wait.
This was taking a big chance for me. If I was detained, or arrested, the band would have to travel without me, and that could mean losing the next few gigs, which could break up the band. We were in-demand show-band musicians and session players, as busy as we wanted to be. The military base gig was a biggie, in 1979, making $5,500 for six musicians onstage. That doubled with the extra two nights.
     A detective came to see me. He said he already talked with the other musicians and our booking agent, who said they had never seen me taking a drink or smoking a cigarette or weed. After talking with me and the girl, he said he believed me and said I could go. He left with the keys to the car and the girl.
     Two days later my mother phoned, saying a detective knocked on their door and asked them about me, telling them what I complained about. The detective phoned me after that, saying my mother had a fierce love for me and she was very strong in her defence of me, and he believed I wasn't capable of such an act.
     A couple of weeks later I was reading the Toronto Star and saw a big article about many people, being called a ring of pedophiles, getting arrested in Cornwall. This investigation went on for another two years,
and the last few articles were saying it didn't go far enough. I still hope that girl found a new life for herself.
     When I got together with the band for the next gig, everyone was saying they supported me and were down with me about calling the police, knowing what I was saying, and not having any problems themselves.
     When I first played Pat Benatars' "Love is a Battlefield", I thought her song didn't go far enough.